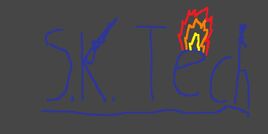 SK Tech was origialy a company making factories for Daimon Port. After Daimon Port became inactive, SK Tech moved to Green Valley where it became a subsidiery of Wraner Incorperated. Just before Green Valley collapsed, SK Tech broke away from Wraner Inc. and became independent. SK Tech jumped around some before settling in New Denmark. After staying in the city for some time, Legoxander made Skippy42 (the CEO of SK Tech) a moderator. SK Tech grew and prospered. Soon it was the fith largest corperation in Zanpo. Everyone wanted peace, but then Pietopa built a missle aimed at New Denmark and started The Cold War. In the confusion, Skippy42 was given the post as general of the New Denmark Defence Force. Immediantly, SK Tech begain building missles for the NDDF to counter the missles being made in Pietopia. Eventually peace was made and the Pietopia Declaration was signed.
At thi time, Daimon Port was being reactivated by Zach104. Skippy42 got a moderator job there too, so SK Tech expanded to Daimon Port. SK Tech then begain building more weapon shops. It was about this time that Wraner Inc. expanded to Daimon Port also. But before anyone could notice, Lgmmmkm and Gamia took control of the NDDF and New Denmark Air Force in a bloddy coup and invaded Froggy City and sparked The Gamia War. This changed the face of Zanpo politics forever. After Lgmmkm was banned and Gamia was warned, SK Tech made Daimon Port their new Headquarters. SK Tech then went through a long period of peace where it expanded by another 70 blocks.
But this peace was soon shattered when Cookton and Daimon Port declaired war with Froggy City. Both sides prepared for war. SK Tech helped both Cookton and Daimon Port in stockpilling WMDs.
Now, SK Tech builds weapons for the public to use (ie. HR-1) and industreal mining lazers (ie. ML-2), and occasionally makes space ships and has created many fighter and bombers.
Subsdiaries and Divisions of SK Tech
Edit
These are the subsidiaries and divisions of SK Tech,
Gamia Enterprises (broke off)
EK Tech/Weaponry (broke off)
Skippy Tech Air and Space Accociation (disbanded)
SK Special Weapons Testing/Development Division
These are the products SK Tech manufactures,
Multiple Missle Launcher Mk. 1
SEV-1 Space Exploration Vehicle
Mk. 1 Static Projectile Rail Cannon